JustBaazaar is launching a JB Special Listing Plan.
In this plan, You can have your listing on JustBaazaar for Just 1000 per year.
Also If you pay for 5 years, you will get 5 years as free.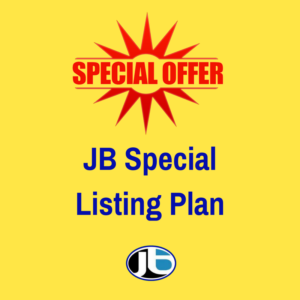 It means if you pay just 5000, you can have JB Listing for 10 Years.
Features of JB Special Listing:
Unique Content Writing
Up to 20 photos
Cover Image
Logo
Video Ad
Reviews and Ratings
Lead Generation Genuine as and when generated.
Photo Gallery
Unlimited Video Promotion on JustBaazaar Youtube Channel
Ability to run Online Marketing Campaigns as and when required.
Free QR Code
FREE Facebook Page Creation
Free Google My Business Management
Good Customer Service
And much more.
Promote Your Business Now.
See All Plans for Business Promotion. Click Here
JustBaazaar – The Best Business Directory of India