Digital Marketing seems to be the most trending term these days. Well at least for the person who does digital marketing. in this post, I will touch on most of the aspects of digital marketing. So, if you have any curiosity related to Digital Marketing, you can simply drop an email to [email protected] or send me WhatsApp HERE.
Estimated reading time: 9 minutes
What is Digital Marketing?
Digital Marketing means marketing with Digital Methods. Digital Methods include, Social Media, Website, Email Marketing, SMS, WhatsApp Automation, Sales Funnels, SEO, Paid Ads, and anything similar.
What is Traditional Marketing and What is Marketing?
As we are discussing Digital Marketing, I thought it is a good idea to talk about marketing. So, Marketing is all about taking your service or product to the market. In other words, marketing means educating your target audience about your service or product.
Say, TATA has launched a new Kaziranga Edition of its cars. And, TATA has published different kinds of advertisements all over the platforms, offline as well as online. So, what is TATA doing? TATA is marketing the new lineup of cars that have the Kaziranga edition. I have given an example of TATA as I have immense respect for TATA. I am not paid anything for this mention. However, I hope you understand in short what is marketing.
Great
Why is Digital Marketing rising these days?
Digital Marketing is growing fast or you can say it is in high demand. It is because Digital Marketing is Affordable and every business owner can have a Digital Marketing Strategy.
Can You Believe this, you can do FREE Digital Marketing?
Yes, Social Media Platforms, free blog sites, free blog posting sites like medium and linked, and Pinterest, all these platforms provide a great and FREE way to do Digital Marketing.
Go, make the most of these platforms. What did you think? All these platforms are for spending and wasting time. No No. These platforms want to make money. However, you can make good money by marketing your services and products with the help of these platforms.
How to Use Social Media Platforms to Do FREE Digital Marketing?
Well, it is comparatively easier than you may think. There is no rocket science. You can simply share about your services and products with all the points mentioned below in mind:
Regular Sharing on All or most of the Social Media Platforms
Use attractive and relevant creatives
Try for Videos, Videos speak a thousand times more than simply creative
Use relevant hashtags
Answer people's questions related to your niche
Ask questions related to your niche
There can be a complete course on how to promote a business on social media. Believe me, if you follow the above 6 points on regular basis, you do not need a course to learn Social Media Marketing.
Importance of Your Website in Digital Marketing
Search Engines like Google and Bing or you can say only Google look for many things online related to your business. However, if you do not have a website related to your business, search engines do not find it very sincere and hence gives a little value.
Websites these days do not cost much. Get a powerful SEO optimized website as soon as possible.
What is SEO in Digital Marketing?
I have mentioned you should have an SEO Optimized website for your business. you can ask what is SEO. SEO stands for Search Engine Optimization. Let me tell you in layman's words, SEO is telling the search engine that you have that particular service or product.
You can do SEO or tell search engines in multiple ways. however, these days there are proper methods to do SEO. Let me tell you an easy way to do SEO for your business. Just be regular on Social Media Platforms and always use your website link in all social media posts.
At least, make a blog post on your website monthly so that search engines find your website useful and believe that your website is always updated with fresh content. This way, you are able to tell the search engine that your website is active. Your website is active online means your business is active.
Your business is active as you love serving people with your services and products.
Keep doing that.
What is Compettion in SEO?
You may see that even after using social media regularly for months and months and updating blogs on your website, you are not able to tank on the first page of the search engine on top.
Why it is so?
It is because of the competition in your business category. It means someone has already done a great amount of SEO in your business category in your location.
In this case, you can seek the assistance of any SEO Expert like me to take care of your rankings so that your business can rank on top of the first page of google search results and you can attract a good number of leads. I also teach SEO, you can join my SG SEO Mastery Course. However, if you are an aggressive business owner, it is wise for you to hire me not to learn SEO.
I hope you understand why I did so.
What is next in Digital Marketing after Socia Media Management and Website?
The next thing is digital marketing is you can go for paid ads.
Paid ads are the best thing to get immediate results. Immediate results mean you can have more leads by spending money on paid ads on Google, Facebook, Linkedin, Twitter, etc.
You can run different types of advertisements on this platform like
Engagement ads,
popularity ads,
lead generation ads,
conversion ads, etc.
You can simply follow the self-explanatory steps to set up these ads. It is really easy to set up these days if you spend some time with good focus. However, if you still need help, I recommend you SG Digital-Empire or SG Platinum Club.
You can get complete and easy assistance from SG Digital Empire and SG Platinum Club.
The Next Thing in Digital Marketing is FUNNEL
You can also call it Sales Funnel. The funnel I am sure you understand.
What happens in this funnel? This funnel is broader starting with greater volume. And, it becomes narrower at the bottom. From this concept, Sales Funnels are created. The sales funnel look like the below image.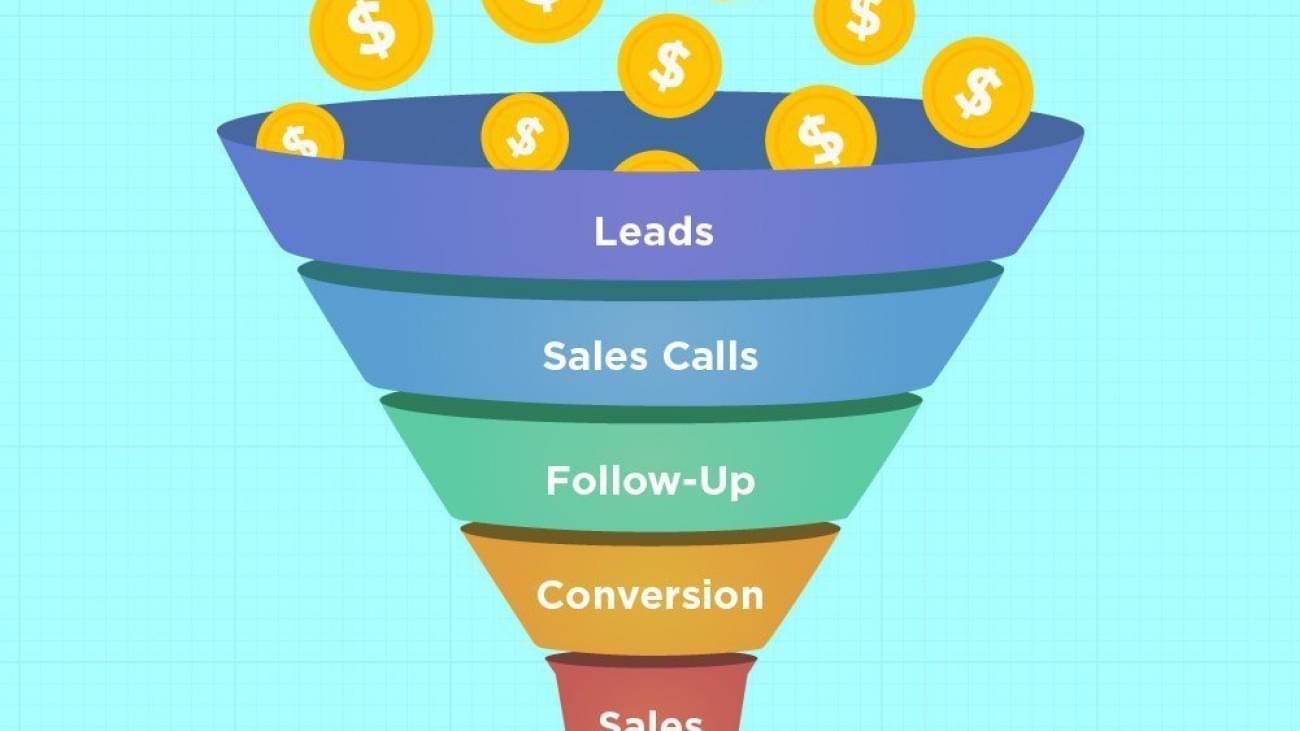 What happens in Sales Funnel?
When you promote your business with
Social Media Platforms
Paid Ads
SEO
Website
Leads are generated. These leads are in the raw stage or called new leads. Step by step you evaluate these leads and take them down to the sales funnel as shown in the above pic. The last step of the sales funnel is conversion or sales.
Nowadays, there are so many types of funnels. Click Funnels is the most popular Funnel system these days.
Need assistance in setting up funnels for your business, contact Sunil Chaudhary aka Suniltams Guruji.
What Else is there in Digital Marketing?
Still, there are so many things in Digital Marketing. a list is given below
Email Marketing
Content Marketing
Affiliate Marketing
Influencer Marketing
SMS Marketing
WhatsApp Automation
Chatbots
Community Building
Loyalty Programs
and much more
What is Email Marketing and how it is done?
Email is an electronic message. Some popular email services every layman knows is Gmail, Yahoomail, and Hotmail. However, when it comes to marketing, there are hundreds of Email Marketing service providers.
I am giving a list below for your quick reference:
Convert Kit
Mail Chimp
Google Workspace
SendinBlue
WebEngage
Constant Contact
Drip
Moosend
AWeber
You can set up easy, short, and engaging email sequences to nurture your leads. This process is called Lead Nurturing.
What is Content Writing and How to Do it?
Content is the king. Content Writing is writing quality content about your services and products so that search engines give value to your online pages. When you have powerful content, you can see growth in your sales and conversions. You can also do great affiliate marketing with content. You can see a few hyperlinks on this page.
These are my affiliate marketing links. if you click on them and should you buy the service or product, I may get some affiliate commission. affiliate marketing is mostly done with content writing.
Content writing is done for many purposes. However, in digital marketing, we are solely concerned with content marketing.
Content marketing done well can get you more leads, more sales, more affiliate commission.
Can you see that this blog post can be a great example of Content writing?
What is Affiliate Marketing?
Affiliate means connected with someone. It means you are connected with some company and marketing their services and products. and when a sale happens that company gives you an agreed commission. as I have mentioned above, I have mentioned a few links in this post, these are my affiliate links, if you decide to buy, I may get a commission.
in affiliate marketing, you are not required to maintain inventory, no need to manufacture or produce, no need to provide customer service. Just promote and make money.
That is why affiliate marketing is on boom these days. You can learn complete affiliate marketing in the SG Digital-Empire course.
Influencer Marketing
Companies, Brands, and Big Houses look for people who have a decent or large following on social media. They hire these people for small promotions and ask them to share some information, creativity, or a video. For this task, these people are paid handsomely. This is called influencer marketing.
Yes, these people have earned some number of followers and obviously have influencers on them.
I am also an influencer marketer. See my influencer marketing profile below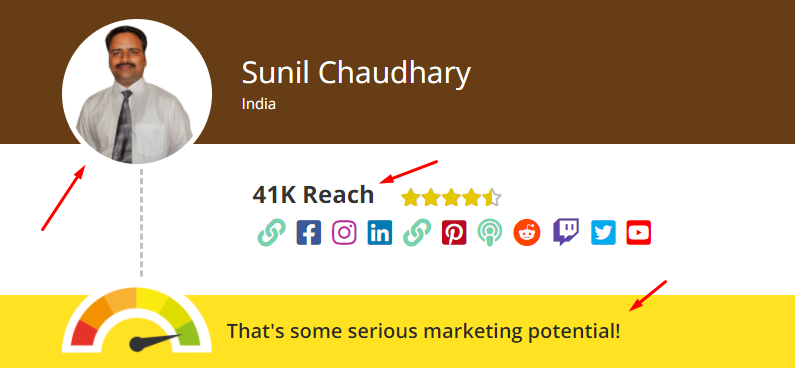 WhatsApp Automation
These days WhatsApp is the most effective tool for communication and marketing too. There are people who are WhatsApp automation experts. you can contact them to set up WhatsApp automation for your business marketing. with WhatsApp automation below tasks are easily accomplished
Payment Collection
Lead Nurturing
OTPs
Billing Reminders
Birthday Wishes
Short Newsletters
Bonding with customer
and much more
What are the Possibilities in Digital Marketing Sector in India?
Not only in India, all over the world, but there are also immense opportunities in the Digital Marketing world.
You can become Digital Marketing Freelancer
Start your own Digital Marketing Agency
Become a Full-Fledged Affiliate Marketer
Earn money as an Influencer Marketer
Develop websites and make money
Help Businesses set up Funnels
Become a content writer and content marketer
Start Doing PPC Ads
Become a Social Media Consultant
Become A Digital Coach
If you need help with any of these, you can join my Digital Marketing Courses Online HERE.
There are many more things I can mention about Digital Marketing in this blog post. However, I keep writing and the post will become a book. It is better you join my Online Community and stay connected.
Thanks for Reading Such a long post. It shows, you are really interested in harnessing the power of Digital Marketing.
Cheers
Sunil Chaudhary aka Suniltams Guruji
India's Leading Digital Coach & Business Growth Consultant
India's Best Digital Marketing Coach
Founder JustBaazaar