Digital Marketing Internship with Suniltams Guruji – Are you interested in Becoming an Expert in Digital Marketing and want to get hands-on experience with Extensive knowledge, this Digital Marketing Internship is for you. This is not a course, It is a real job and learning opportunity.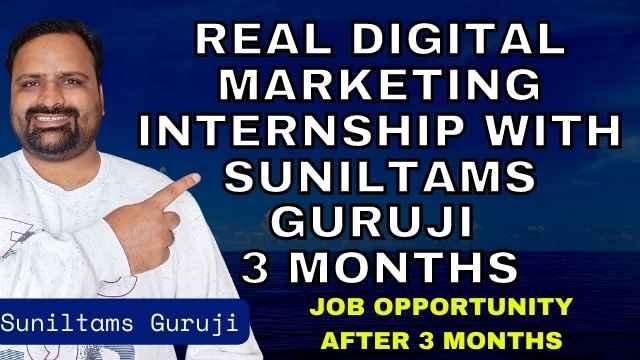 Digital Marketing Internship with Suniltams Guruji (JustBaazaar)
Security Rs. 20000
3 Months
Digital Marketing Internship with Suniltams Guruji
Great Learning Opportunity (SEO, Digital Marketing, Canva, Backlinks, Landing Pages, and Much More)
Certificate and Experience Letter
Opportunity to Get a Job with JustBaazaar
Should Have Basic Knowledge of Digital Marketing.
Once joined, there is no way to refuse. So Decide and join.
If you complete your 3 months, get your Security FEE Back or it will be forfeited.
What you learn is much more than the courses you pay Lacs of money.
Real learning and implementation – Hardworking and sincere person required.
3 Months to A Great Future
Digital Marketing Internship with Suniltams Guruji
If you are not ready to work by going the extra mile this Digital Marketing Internship is not for you.
If you want to make a great career in Digital Marketing Space, this digital marketing is the best in India, I promise.
Interested candidates, please write to [email protected] with your updated resume.
Once shortlisted, you need to submit Rs. 20000. You will get lots of real work to do. And tons of training and guidance from Suniltams Guruji.
This is a great opportunity for anybody who wants to make it a big in Digital Marketing world.
Regards
Suniltams Guruji, Founder – JustBaazaar
india's leading Digital Coach
Best SEO Expert
Best Digital Marketing Expert in India
Best SEO Coach India
Integrated Digital Marketing Expert
WhatsApp Automation Expert
Business Automation Coach
and a lot.
Are you excited?
Drop your resume at the email id
Digital Marketing Internship with Suniltams Guruji Details
Security so that I have only sincere people who want to learn and excel in Digital Marketing Sector
Work Opportunity – Real Work and Real Projects
Opportunity to Learn SEO, Digital Marketing, Affiliate Marketing, and Influencer Marketing, all through real work
Coaching, Guidance, and mentoring from Suniltams Guruji as per the work needed
Once 3 Months are complete as per terms and conditions, your security will be refunded to you
Standard Leaves and exceptional leaves in exceptional cases as per my discretion
If 3 Months are not completed, Security will be forfeited
After 3 months, considering your work and behaviour, you can get an awesome job with JustBaazaar – Work From Home
Great opportunity to work with India's Leading Digital Coach, Integrated Digital Marketing Expert and Best SEO Expert in India
If you can go the extra mile in your efforts without ever complaining, this is for you.